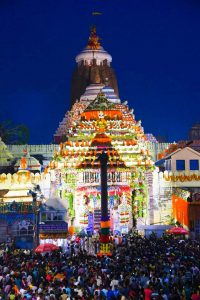 Shree Jagannath Temple of Puri ,in Odisha is a great centre of Sanatana sanskritj not only in Odisha but also outside it . It is one of the important pilgrimage destination being a part of "Char Dham". This is the Abode of Sri Jagannath with his Brorher Balabhadra  Sister Maa Subhadra and Sudarsana Thousands of devotees feel blessed having the Darsan of Chaturtamurti.
Built in 12th century during the Ganga dynasty of Kalinga in the best presentation of  "Kalinga style of Arcetecture".   There are many controversy regarding the king ,who had built this temple .But still there is no fact available to deny the fact that the temple was built by Great king Chodaganga Deva of Ganga dynasty.
The grant structure of the temple include Vimana, Jagamohana ,Natamandira and Bhogamandapa. The Vimana of the temple rises high upto 214 ft 8 inch height.The Jagamohana is like that of Vimana ,follows a Pancharatha Style.The roof of the structure is amply supported by several Iron Beams.
The Natamandira is probably added to the structure during the Glorious region of Gajapati Purusottamadeva.There are several others temples and structures which are added to the main structures during different subsequent rulers .The entire temple is surrounded by an outer wall known as "Meghanada Prachira".This wall was not the part of the original plan of the temple.But Due to constant Muslim invasion  Purusottama Deva might have erected this to save the God from the invaders. There are four entrance door & the main entrance is known as "Simhadvara" famous among pilgrimage as "Jai Vijay Dvara.". Arunastama is the monolithic structure that has brought from Konark sun temple  stands high infront of Simhadvara.
The temple of Shree Jagannath represents the amalgamation of Saiva,Vaishnava, Shakta and different other Sankriti. It has the special place in the heart of devotees of  India.
Jai Jagannth .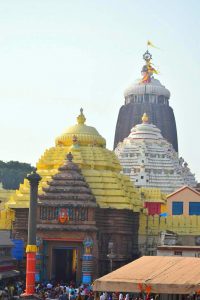 All information entered is personal to the author. Any modification or changes must be addressed to the author.