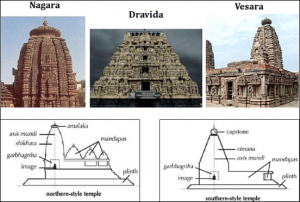 The temple architecture of North  Indian and South Indian temples are consisting of some main features.
The North Indian  temples have three main parts
The base platform is known as Vedibandha
The Jangha, which is the vertical wall enclosing the Garbhagriha, which houses the main Vigraha.
The third one is Shikhara, the elongated tower, that is capped by the ribbed final stone Amalaka which hold the Kalasha
The south Indian temples consist of
The base known as Adhisthana followed by the vertical wall Pada
The Padaends in an entablature called Pastara
Then comes Griva or neck of Shikara
Now we will discuss the parts individually
GARBHAGRIHA
The garbhagriha is the most sacred part of the temple as it houses the Main Vigraha or murti. The term Garbha signifies a womb, the Fundamental stage. The dark ambiance of Garbhagriha gives an experience of the mystic energy of Supreme Being especially during the Aarti. The aarti of God symbolizes the potent light that shines from primordial darkness. The doorway of Garbhagriha is framed with rich carvings. On either side of the doorway, the dwarapala or the sacred river Goddess like Ganga & Yamuna are located.
Garbhagriha or the sanctum sanctorum is always square in its plan as square regarded as the most auspicious of all shapes. As per geometrical term, Garbhagriha is constituted as the central four or nine square of Vastupurushamandala and is known as the Bramhasthana or the abode of the creator of the universe  Bramha.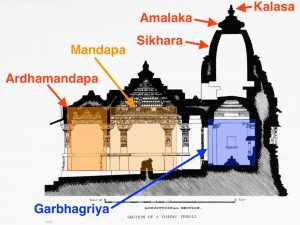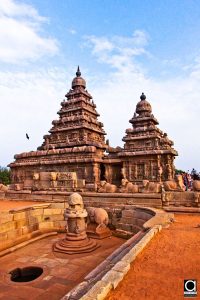 SHIKHARA
In Hindu, traditional mountains are considered as the most sacred and the abode of Gods. Mount Meru is considered the center of the Universe. All the temple tower or Shikhara are inspired by it and built to replicate it. As many mountains made of smaller mountains, the shikhara is also built with replicas of smaller mountains. The topmost point of the Shikhara is the Amalaka which is a slab of stone and shaped into the intended wheel. It contains the Kalasa or the pot of nectar on it. The Shikhara leads the devotee's eyes to this point of the last stage of the material world and the beginning of divine space.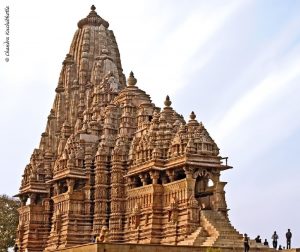 VEDIBANDHA
The Vedibandha is situated above the base platform of the temple, which serves as the base of the walls of the temple. It has several distinctly decorative moldings arranged from bottom to top in a specific order. The molding from an integral part of temple architecture & represents each important stage of masonry while building the temple.
JANGHA.
Jangha is the vertical section of the wall which encloses the rear and sidewalls of the Garbhagriha The finest sculptures are displayed on the Bhadra or vertical projections and the recesses of the wall of the Jangha.
Source-Temples of India by Tarun Chopra.

All information entered is personal to the author. Any modification or changes must be addressed to the author.