Konark Sun Temple was built by Narasinghadeva I of Eastern Ganga dynasty of Kalinga. There is a brief history behind its construction.The temple was believed to be contructed when Narasingha Deva retured with a great vistory in the war of Lakhnor on the advise of Queen mother Kasturi Devi
OLD SUN TEMPLE
Queen Mother Kasturi Devi reasoned that among the four holy centers of Sankha Kshetra Chakra kshetra,Gada Kshetra & Padma Kshetra, the last one did not have any significance temple.And  as she was the worshiper of Sun God she wanted to built a Grand Sun Temple.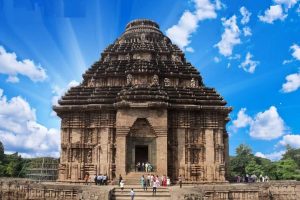 According to another version it was Maharani Sita Devi inspired the King to built a Sun Temple .As Rajamata Kasturi Devi was blessed with such a brave courageous and great Son with the Blessing of sun God .The temple they were worshiped the Sun God ,which was built by Kesari king Puranadara Kesari was in dilapidated condition
PURANIC SIGNIFICANCE
It was decided to erect a Grand Sun Temple at Padma Ksetra on the bank of Chandrabhaga river which was known as Maitreya Vana during Dwapara Yuga. It was here Samba,the son of Bhagwan Shrikrishna worshiped Sun God for 12 years and get cure from leprosy. After being cured when he took  dip in the river Chandrabhaga he found an idol of  sun God.He built a temple and  installed the idol in it.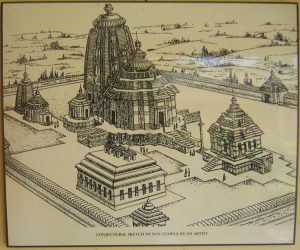 SCIENTIFIC ASPECT
Legend says the deity of Sun God was consecrated one Sunday, on 7th day of the bright fortnight of Magha at equinox, when the raising sun bathed it in sunlight from the Agni Kona. It is also believed that the first ray of sun was falling on the crown of Sun God.So there could have  been significance of Angle of Sun rays for selecting the Spot.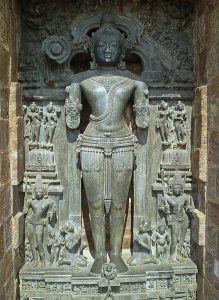 The spot selected  for the temple was the Padmatola Ganda (Getoge) on the bank of Chandrabhaga.
There is also a legends goes Thus.
One day Chief Architect, Shasasiva (Sibei) Samantaray was resting on the varanda of a cottage engrossed in deep thought.When they are trying to filled the Padmatola Ganda the stones thrown into it were being washed away by strong current of water.He was worried and Hungry too. The lady of the cottage serve him the hot rice gruel .Still deep in his thought Sibei Santara put his hand on the hot porridge.
The the lady smile and said "You are eating using the process that Sibei Santara uses to fill Padmatala Ganda.
Immediately the solution of the problem in the mind of  architect .He started forming spur from the bank of the river & succeeded in developing an island .The lady was non Other than Maa Ramachandi .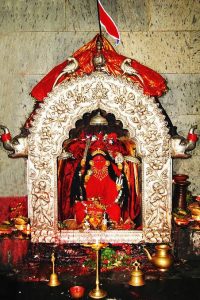 The Bhavishya Purana & Skanda Purana have identifies 3 place in Bharata for Sun worshiping at three specific hours of day as sun rays have the healing power and Konarka is one of them.

All information entered is personal to the author. Any modification or changes must be addressed to the author.