The place where the mandir was constructed is believed to be the place where Kannagi, the idol of the Tamil epic Silappatikaram, reassured herself after returning from Madurai.
Will have a glance of about Devi Kannagi before going into Mandir Sattology for better understanding about Sthala Puranam:

STORY OF DEVI KANNAGI :
Kannagi is worshipped as Devi in many areas. She is the epitome of chastity. In Kerela, she is worshiped as Bhadrakali and Attukal Devi. For Sinhalese Buddhists of Sri Lanka, she is Devi Pattini and Kannagi Amman for the Sri Lankan Tamil Hindus. Kannagi was the wife of Sri Kovalan, a merchant from Kaveripattinam. He left Kannagi for a dancer Madhavi and spent all his wealth on her. Kovalan, later, returned to Kannagi when he was penniless. The only asset left was a pair of anklets filled with rubies. Both went to Madurai which was ruled by Pandyan Nedunj Cheliyan 1.
Kovalan wanted to sell the anklets and restart his life. However, around the time he set out to sell the anklets, one anklet (out of a pair) was stolen from the queen by someone and it resembled Kannagi's anklet. Kovalan was caught and beheaded without any trial. Furious Kannagi reached the court and broke open the anklet to prove Kovalan's innocence. She flung her anklet and cursed / Shraap that the entire city would burn. The entire city caught fire and her curse became a reality. Kannagi is also the main character of the epic Silapathikaram.
Now will go with Mandir Sthala Puranam –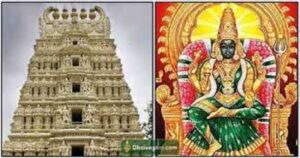 Sthala Puranam says, Chelliamman was a local Devi of Siruvachur village. Her powers became delimited by a Tantric, who started using the powers for destructive purposes. Mathura Kaliamman, a form of Maa Kali, happened to visit the place seeking shelter from Chelliamman for a night. During her stay, Chelliamman revealed her servitude, & Mathura Kaliamman did away with the Tantric & saved Chelliamman. Chelliamman, in order to greet Mathura Kaliamman, moved to the Periaswamimalai, a nearby hillock, requesting the latter to stay in Siruvachur, while demanding that the initial offerings should be presented to her.
The mandir is about 1000 years old. Near the city of Trichy, Kannagi came across a Devi mandir and decided to rest there for the night. The mandir's presiding Devi was Chelliamman, fondly referred to as Chelli. Kannagi went into the deserted mandir & prepared to rest for the night. It was then that something strange happened. Chelli came out of the sanctum & said –

"Lady, I request you not to stay here." Kannagi was astounded, "Devi, why are you asking me to go away. Are'nt you supposed to protect us?" "Child, you don't know the situation. I am a powerful Devi, yes. But now I am bound to serve the whims & wishes of a cruel magician. He won my favor with his intense bhakthi towards me. And when I granted him any boon that he could wish for, he wanted me to be his servant, obeying his tiniest commands. By the power of my own boon, I am bound to him. He uses me to do all his wicked deeds. If he finds out that you have been here, he will surely kill U. Thats why I beseech you to go away as soon as possible.", explained Chelli.
Kannagi was moved by Chelli's problems & promised that she would help her to get out of the same. Kannagi & Chelli planned to kill the wicked magician. As night fell, Kannagi withdrew into the sanctum along with Chelli. She invoked her family deity, Kali, to help her in vanquishing the magician. Kali granted Kannagi all her powers to kill the evil sorcerer. Soon the magician came by & ordered Chelli to come out. But to his great surprise, Kannagi sprang out & with one sweep of sword she cut his head off. Before dying, the sorcerer made a final request that he should have his samadhi in the very same mandir & all the bhaktas should stamp on him for all the evil that he had done.
Kannagi granted him his final wish. Chelli too was freed from the bond & was happy beyond all measures. Chelli looked at Kannagi, her eyes full of gratitude, Kannagi, I am so grateful to you for what you have done. I want you to stay over here forever more & protect the people of this village of Siruvachur. This place is mine no more. In this village, under your powerful rule, no deeds of evil can take place any more.
People with evil intentions cannot even enter the village. Billi-soonyam, black magic & Devilic tantras will not workout here.
Protect all of the people who come in search of refuge from the evil forces. I will retreat into forests of Periyasami hills. You are always welcome to visit me over there. Kannagi was overwhelmed with happiness & promised Chelli that she would do her best to rid the world of evil. "I will bless your bhaktas & mine with protection from all kinds of evil. But I will be down here only twice a week, on Mondays & Fridays. The other five days, I will be with you, up on the summits of Periyasami hills. I also request that you accept all the offerings & poojas at this mandir before I accept them", she said. Chelli agreed to Kannagi's conditions & left to her new abode at the Periyasami Hills And so, Kannagi took over the seat of Chelli at the mandir. She came to be known as MadhuraKaliAmman, since she had come from Madurai & had gotten rid of the evil sorcerer with the grace of Kali. Several explanations are also given for her name. Soon word of her power spread far & wide & people started coming.
The town of Siruvachur became famous for the grace & protection of the presiding Devi has remained so ever since. The mandir is open only on Mondays & Fridays, as was commanded by Kali. All the other days it is believed that Madhurakali amman retreats into the Periyasami hills to spend time with Chelli. The mandir teems with thousands of bhaktas on these two days. At every pooja, when the Aarthi is being offered, Pandit first lifts the Aarthi upwards in the direction of Periyasami hills offers prayers to Chelliamman & then only proceeds to worship Madhurakali Amman. In front of the main sanctum is present the samadhi of the evil sorcerer who had commanded over Chelli. The bhaktas stamp over the samadhi in the rush during the pooja, as had been requested by him. Also, it is believed that all the pandits at the mandir are descendants of the sorcerer. It is believed that Kali keeps a close watch on them so that they do not, in anyway, inherit the evil mind of their forefather. And so remains Madhurakali, in the village of Siruvachur, granting solace & refuge to all her bhaktas who come to her in times of need, just like she had protected & solved the problem of Chelli eons ago.
How to reach this Mandir – Location from Google maps – Click Here

All information entered is personal to the author. Any modification or changes must be addressed to the author.