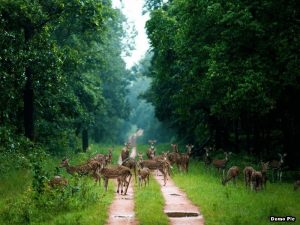 IMPORTANCE OF MAA NARMADA 
Seven rivers have been considered prominent in the Puranas, of which Narmada is also one. Just like Gangotri, Yamunotri is the origin of Ganga-Yamuna, similarly Amarkantak is the origin of Narmada. The place from which Narmada originates is called Koti Tirtha. It has special significance in Hinduism. According to the Puranas, the water of Saraswati is purified in five days, the water of Yamuna in seven days and the water of the Ganga immediately sanctifies. But the mere sight of the water of Narmada makes a person holy.
There are many old temples on the peak of Amarkantak. There is a pool in the circle of these temples from which the river Narmada starts. This pool is called Koti Tirtha. This is the name of special pilgrimage. There is also a Narmada temple here. There are also two falls named Kapil Dhara and Dugdhara, and one is Kabir Chauntra. Sant Kabir also stayed here for some time.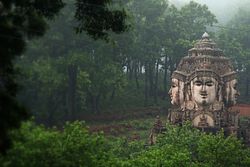 AMARKANTAK
Amarkantak  is the origin of Narmada River, Son River and Johila River. It is a sacred place for Hindus. amarkantak, situated in the Maikal hills, is a popular Hindu pilgrimage center in Anuppur district of Madhya Pradesh. At this place 1065 meters above sea level, only the Vindhya and Satpura hills of central India merge. The Narmada and Son rivers originate from Amarkantak surrounded by teak and mahua trees from all around. The Narmada River flows westwards and the Son River in the east direction. The beautiful waterfalls, sacred ponds, high hills and serene environment mesmerize the tourists. Nature lovers and religious people love this place. Amarkantaka is associated with many traditions and legends. It is said that Narmada, the daughter of Bhagavan Shiva, flows from here in the form of Jeevandayini river. There are many temples dedicated to Maa Narmada, which are considered as the form of Durga. Amarkantaka is also famous for many ayurvedic plants, which according to legends are considered to be full of life-giving properties. Apart from this, Mahadev hills are situated between the Narmada and Tapti rivers of India. These are plateaus ranging from 2,000 to 3,000 feet in height, covered with lava of the Deccan. These hills are formed by the Archaean Era and the red sandstones of the Gondwana period. Manganese on the slopes south of Mahadev Hill and some coal is obtained from Pench Valley near Chhindwara. Wheat, sorghum and cotton are produced in a few wide plains of Venganga and Pench Valley. A little agriculture is done in Burhanpur Dar on the west. The tribal Gond caste lives here. Pastoralism occurs in grassy areas. The famous hill region here is Panchmarhi. Chhindwara is a small town.
                                                   FAMOUS  TEMPLE OF AMARKANTAK
MAA NARMADA KUND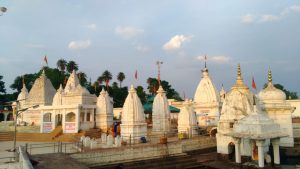 Narmada kund is the origin of the Narmada River. Many temples are built around it. These temples include Narmada and Shiva temples, Karthikeya temple, Sri Ram Janaki temple, Annapurna temple, Guru Gorakhnath temple, Sri Suryanarayana temple, Vangeswar Mahadev temple, Durga temple, Shiva family, Siddheshwar Mahadev temple, Sriradha Krishna temple and Gyara Rudra temple etc. . It is said that Bhagavan Shiva and his daughter Narmada resided here. Narmada ascension is believed to have originated from Shiva's jata, hence Shiva is called Jatashankar. It is believed that Maa Narmada used to come out of the boss's herd at this place and later the kund and temple were built at this place by Reva Nayak. There is a statue of Reva Nayak near the bathing pool. Several centuries after Reva Nayaka, Bhonsle kings of Nagpur built the originating pool and the laundry tank. After this, in 1939, Maharaja Gulab Singh of Rewa got the siege and renovation done around Maa Narmada Udgam Kund, Snan Kund and the campus.
                                                                     DHOONI PANI
This is the hot spring of Amarkantak. It is said that this waterfall is endowed with medicinal properties and to cure the untoward diseases of the body. People from far and wide come for the purpose of bathing in the holy water of this waterfall, so that all their sufferings can be relieved.
 DOODH DHARA
This waterfall, named Doodhara, in Amarkantak is quite popular. The water of this waterfall falling from a height looks like milk, hence it is known as Dudhadhara. It is in Shahdol district.
KALCHURI ERA TEMPLE
To the south of Narmadakund are ancient temples of the Kalachuri period. These temples were built by Kalachuri Maharaja Karnadeva during 1041-1073 AD. Machhendrathan and Pataleshwar temples are excellent examples of temple building art of this period.
SONMUDA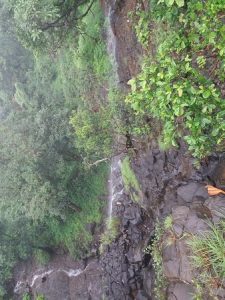 Sonmuda is the origin of the Son River. From here one can see beautiful views of the valley and forest-covered hills. Sonmuda is 1.5 km from Narmadakund, on the edge of the Maikal hills. The Son River falls from here as a waterfall from a 100 feet high hill. Due to the golden sand of the Son River, this river is called Son.
                                                                 MAI KI BAGIYA
The mother's garden is dedicated to the mother Narmada. It is said that Narmada flowers, the daughter of Shiva, were chosen from this green garden. Naturally, mango, banana, and many other fruit trees are grown here. Also, Gulabkavali and beautiful rose plants enhance the beauty of the place. It is one kilometer from Bagia Narmadakund.
KAPIL DHARA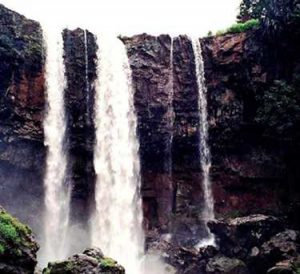 Kapil Dhara waterfall falling from a height of about 100 feet is very beautiful and popular. It is said in the scriptures that Kapil Muni lived here. Beautiful views of dense forests, mountains, and nature can be seen from here. It is believed that Kapil Muni composed the Sankhya Darshan at this place. Kapileshwar temple near Kapil Dhara is also built. There are many caves around Kapil Dhara where saints can be seen in a meditative posture.
KABIR CHABUTRA
The Kabir platform is of great importance to the local residents and the Kabirpanthis. Saint Kabir is said to have meditated on this platform for many years. It is said that at this place devotees Kabir Ji and the first Guru of Sikhs, Sri Guru Nanak Dev Ji used to meet. He discussed human welfare here along with matters of religion and religion. There is also a Kabir waterfall near Kabir platform. Bilaspur and Mungeli in Chhattisgarh meet the boundaries of Anuppur and Dindori districts of Madhya Prades.
 SARVODAYA JAIN TEMPLE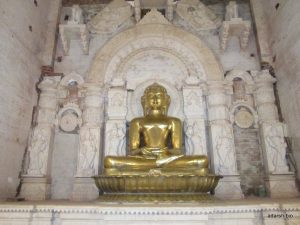 This temple holds its place among the unique temples of India. Cement and iron have not been used to build this temple. The idol installed in the temple weighs around 24 tonnes. Lord Adinath is seated on the Lotus Singhasan of Ashta metal, the weight of Kamal Singhasan is 17 tons, thus the total weight of the statue and Kamal Singhasan is 41 tons. The statue was installed by Munishree Vidyasagar ji Maharaj on 06 November 2006 by law.
SHRI JWALESHWAR MAHADEV TEMPLE
Shri Jwaleshwar Mahadev Temple is located on Shahdol Road, 8 km from Amarkantak. This beautiful temple is dedicated to Lord Shiva. From here, the third river of Amarkantak originates from the Johila River. According to Vindhya Vaibhav, Lord Shiva himself installed the Shiva lingam here with his own hands and was scattered as a number of Shiva lingam in the wheels of Maikal. In the Puranas, this place has been called Maha Rudra Meru. It is believed that Lord Shiva along with his wife Parvati resided in this delightful place. Close to the temple is the Sunset Point.

All information entered is personal to the author. Any modification or changes must be addressed to the author.