Location and Ancient architecture:
Dipalpur is the city in Okara District of West Punjab (Now Pakistan ). This place is located about sixteen miles from the district Mitgumari railway station Okara on a bank of the Beas River in Bari Doab region.It was situated at an altitude of 30-40 feet above the ground level.There were four big entrances around it.The whole city seemed like a fort,there was a deep moat around the city for protection, in which water was filled, whose  remains are still visible.The state was founded by the Hindu Khatri (Kshatriya) King Shri Chandra Khanna.This state was spread to  West Punjab, Indus Sakkhar and Shikarpur.It is described in Mintgumari Gazette that Suryavanshi Khanna Kshatriya were spread far and wide and settled down to Kabul Kandahar.
Story of Babe Lalu Jasrai ji:

Raja Shri Chandra did three marriages to have a son, yet did not get a heir for his clan.For this reason, he was worried that who would be the successor of this empire .His Family Priest Chandrmuni ji Mahraj Zhingran e used tocome to give him regular blessings and always greeted by king with great respect. One day he visited the palace of the king according to his routine and he saw the king in a pensive state. Purohit came to know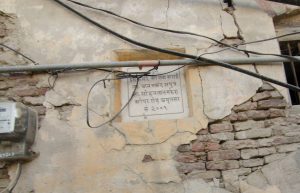 about the cause of the king's state as he was a Omniscient (Trikal Darshi) but yet he requested the king to tell him the reason for his sadness. King said ,I did three marriages to get a son, but still I am childless. I have only one concern, who will rule this kingdom after me? After saying this the king was distraught and fell on the earth.Purohit ji picked up the king and planted it from the heart and started giving consolation and said, Rajan be patient.I will definitely take some measures after consulting scholars which will give you the heir for your kingdom.The king wanted to offering him as usual he did whenever he comes to visit him but  Purohit ji, the well-wisher of the king, promised that I will only come to your palace only when you have children and I will accept this worship.Purohit ji left after saying this and reached  directly to his revered Gurudev Dayal Purush Baba Chhajal Dev whose ashram was two miles from Deepalpur, near his ashram there was a very beautiful pond.When Pandit Chandra Muni ji reached there, Dayal Purusha was in Samadhi. Purohit ji respectfully sat down at the feet of Gurudev.After a while, Baba Chijjal Dev ji got up from his seat and took the form of a plunge frog into the pond. After that, taking the form of ascetic again, he sat on his seat in the ashram. Seeing the purohit ji sitting in front of him, he asked him the reason for coming. He then told the whole story about Raja Shri Chandra .Therefore, Gurudev, that is why I have come to your shelter, please show me some remedies.Hearing this, the sage Dayal Purush went into a Samadhi.A little later, at the opening of the Samadhi, he said that O Vipravar,it is not a child in the fate of the king. If you have desired to fulfill your vow, then you will find Bhagwati Hinglaj Prambha Shakti, whose holy place is situated at great distance from here, in the dense forest. Where the Akhand Jyoti of Bhagwati is awakening, start the chanting of this mantra with the resolve of getting a son for King. "ॐ सर्वा बाधा विनिर्मुक्तो , धनधान्य सुतान्वित: | मनुष्यों मत् प्रसोदन भविष्यति न संशय: ||"If Bhagwati's maa becomes happy with such rituals and offers her two dividend as children for the king, then your penance will be successful and your son Raja Chandra will get a child but penance is very difficult.If you will be able to do such penance with courage, then by accepting your prayers, Bhagwati Hinglaj will give you a boon. I will also help you in this task.(It is also heard by the ancestors that the Baba Chhajal dev had taken the form of Shesh Nag and reached the temple of Maa Hinglaj).Pji accepted the order of the revered Gurudev and proceeded towards Shri Hinglaj Temple. The path was very difficult but still the purohit ji reached the temple adventurously.Taking such a resolve that King Shri Chandra should get a son, he started duly chanting the aforesaid Mantra to please Bhagwati Jagadamba. The priest started living life by chanting the mantra whole day and night,by eating the fruits and flowers of the forest. Varadaini Bhagwati  Shakti Devi Mata Hinglaj appeared after eleven years of hard penance. He said to Purohit ji , I am happy on your penance.Purohit ji folded his hands and prayed that son should be born in the house of my King Raja Chandra, this is my resolve. That's what i want from you.After listening to Purohit ji, Mother Hinglaj said that there is no child in the fate of the king, O Brahman, you ask for some other groom.But the priest started saying that I do not want any other boon. I want only this groom. After that the Bhagwati ji becomes disappeared and Purohit ji started chanting the same mantra again.Eleven years passed again. Mata Hinglaj reappeared and started saying to Purohit ji 'Varambruhi'. The priest said, "Mother, give me that groom for which I am determined to sit at your feet." The priest said again, O mother, if I do not get that groom, then I will spend the whole life sitting at your feet like this and will never go back to my home.Karunamayi Bhagvati said, " I am pleased with your austerity and I give you my two dividends ." Both Veer Lalbir and Veer Agakad will go with you by making the form of  boys.You give these boys in the lap of queens. With this your resolve will be proved and your Yajman will get a son. Mata gave orders that these boys should not be called any abusive because these will not be able to bear and will return to me.The Brahmin greeted at the feet of Mateshwari very happily and said that you have accepted my prayer. By your grace, the king has received the offspring of God but who will speak profanity to them?. Still I will send your message to the kings and queens and after Purohit ji said this, maa Hinglaj called her offsprings and told them to go with him.Purohit jiand the offsprings bowed at the feet of maa and proceeded to their town Shri Deepalpur.When Purohit ji reached Multan, King Narsingh Bhup brother of Raja Shri Chandra came to know that Purohit ji is coming with the offspring of Maa Hinglaj taking as the sons of King Shri Chandra .King Narasinha Bhup had this feeling that my brother is childless. Therefore, I will get his crown, but now he wouldn't due to these two child , there was envy in Narasimha Bhup's mind and he  decided to kill offsprings and started a war with his army.A fierce battle ensued, but they were offspring of Maa Bhagawati. How could success in war with them be met? They both  killed all the warriors of Narasimha Bhup and proceeded towards Shri Deepalpur along with Purohitji. On reaching Shri Deepalpur, Purohit Ji informed the King Shri Chandra that by the immense grace of Bhagwati, these two veers have received you as a son. In the auspicious time, Purohit ji worshiped Shri Ganesh and Bhagwati Hinglaj and placed one offspring in the lap of two elder queens. In addition, the priest also informed the kings and queens that this child is in the form of a god. Never say any abusive word to them. Otherwise they will not stay here and will immediately go back to Maa Bhgavati Hinglaj.One day, due to some reason, the third queen said in anger"nigar jao" that means vanish from the face of the earth.Due to extreme anger, she forgot that the priest had forbidden her to speak abuses to them.Seeing the mother angry, they forced her to said"nigar jao" thrice and reached the place where the temple is built.They prayed to Dharti Mata that we can no longer live here, keep us in yourself. At the same time, they entered into the earth and only the "Choti" was left(Actually the place was "Aala" the vacant place in wall).While leaving, they spoke to the purhoit ji that bless the mother who said abusive words to us,your austerity is so strong that with your blessings she will get a son and this son will continue the Suryvanshi Clan of Khanna king.Here in the temple of Babe, The rituals of choti and jenau of khatris were held  before partitons but after partitons several temples aur built in different areas for the same purpose .

Ardas of Babe:
श्री  बाबे लालू जसराय देवाय नमः
चढ़े जब चाँद मकरन्द पूजा करे भानु की जोत पर रहे उजालू |
देवी और देवता सिद्ध पूजा करे नित्य नारद उठ वेद बोलू ||
कहे जोधाराय तेरी जोत जागे रहे सदा अगम निगम पूरन नहालू |
दूध और पूत धन लक्ष्मी देत है सोई जागती जोत जसराय लालू ||
बड़ोई दाता जाकौ सुमिरै परभाता,
नाम लेत दुख जाता ऐसे लालू जसरायजी | जू |
लाल ही घोड़ा जोडालाल ही मंदिर,
सोहे जाको लाल हो आभूषण रहे मन भाय जू ||१||
हिंगलाज के सपूत बैरी मारे सब दूत ऐसो कहै
जोधाराय सो तौ सन्तन सहाय जू| झिंगरन जै जैकार करै,
खन्ने जी चोटी धरे भट्ट ठाड़े अस्तुति करे भक्तन मन भाय जू ||२||
जाको कवि जय जय करै जे सुमिरे होय काज |
जाकू दुख दारिद्र नहीं जे सुमिरे जशराज ||
जे सुमिरे जसराज, काज सब वाके होई |
जो सुमिरे जसराज, वो निर्धन रहे न कोई ||
जे सुमिरे जसराज, दुख दारिद्र नशावे |
और जे सुमिरे जसराज नित उठ मंगल गावे ||
कवि जीवन जसराज सुमिरिये रिद्धि जा भजेय |
श्री हिंगलाज कारज करहि बोल लाल मंदिर वाले बाबा की जय||

All information entered is personal to the author. Any modification or changes must be addressed to the author.